HELEN NEVER AFRAID OF A CHALLENGE ( A tribute to Helen Warmingham)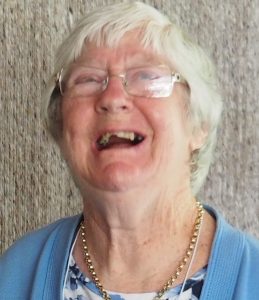 THE ADVERTISER, SATURDAY NOVEMBER 27, 2021; OBITUARIES, PAGE 60
HELEN PHYLLIS WARMINGHAM, AM
Disability advocate
Born: December 2, 1938, Adelaide
Died: February 8, 2021, Hope Valley
HELEN was diagnosed with cerebral palsy at birth and, in her early years, was frustrated, finding it difficult to do things. But with support and perseverance, she overcame many difficulties.
When Helen was 18 she got a job. She was an administrator at the poliomyelitis branch of South Australia's Public Health Department. After three years, she transferred to the tuberculosis branch and after 19 years there, moved to the SA Health Commission Library. She was in public service for 41 years.
Helen was an adult member of the Girl Guides, at The Barton, for almost 65 years. This opened doors for her with opportunities to meet people her own age with a common interest on which to build relationships.
She later moved into the movement's north metropolitan region where a district was named in her honour. Helen was a group leader for 38 years and was always proud of that achievement. As a member of the Girl Guides, she travelled Australia to camps, conferences, jamborees and meetings. She attended the Commonwealth Games in the UK, New Zealand and Australia with other members.
Helen spent six months travelling to Asia, Europe, England and the US when she was 34 and repeated this for five months with her mother.
She moved to Sefton Park with her parents in 1969. The family joined the congregation at St Phillip's Anglican Church at Broadview where Helen's spiritual journey grew.
She wrote that, rather than going as a routine part of life, she became aware of the presence of God in her life.
Helen asked herself what was God's plan of healing for her. She realised that if God loved her just as she was, she ought to be able to do the same. She saw that her disabilities were a vital part of life. They affected the way she thought, the things she did and the way she related to others.
In the late 2000s, Helen went to a workshop run by the Pilgrim Church in the CBD and decided to join. She was a deep thinker with an incredible talent for writing stories, poems and plays. During the years with the Pilgrim Church she found a peace and understanding which satisfied her spirituality.
Across the years Helen was also a member of the Enfield Uniting Church craft group, L'Arche (Australia), the National Council of Women, the Out and About Club, the Northern Trefoil Guild, the Committee for Sexuality and the Disabled Person, the Adelaide Cursillo Movement, and Sophia Writers Group (Pilgrim Church). She also studied at Flinders University and Adelaide College of Divinity.
In 1978, Helen was awarded the Girl Guides' Emu Award. In 1982, she was awarded the RSL's SA Anzac Award for her positive, selfless and compassionate community service with the physically and mentally handicapped. But it was on June 11, 2001, that Helen received her highest honour.
She was appointed a Member of the Order of Australia (AM) for her work with youth and those with a disability.
Just after her 82nd birthday, Helen became unwell and was hospitalized, subsequently moving to Estia Health Hope Valley. She died after a bout of pneumonia.