Inflation in Zimbabwe reached 838% in 2020 according to the World Bank.
Since then the Covid pandemic and its impacts have disrupted livelihoods, especially in urban areas. Estimates show 7.9 million people or 49% of the population of Zimbabwe live in extreme poverty. Prices of most goods and services are still rising and there has been a significant rise in income tax and banking charges. For the L'Arche community, this has been compounded by the loss of income from the various gardening and production projects.
Impact of Covid and how your donations in Australia helped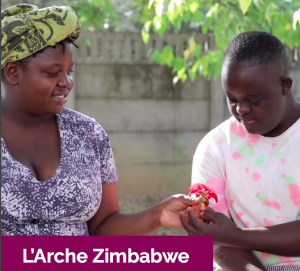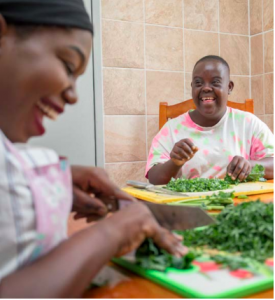 Support from community members and donors here helped the community prepare for Covid including the sourcing of thermometers, hand sanitisers, gloves, liquid soap and rapid screening tests and happily L'Arche Zimbabwe did not experience a case of COVID-19 in 2020.
The community reached out to people with intellectual disabilities and their families, parishes, neighbours and other local organizations. They gave Facebook live talks about their experience and expanding their outreach program to support families.
Tadiwa a Community member has intellectual disabilities and was visited at home with his family. His mother said "The visits of the L'Arche outreach team during the Covid period made us feel that we are part of a caring community which reminded us that we are not alone."
Back at the community, creativity was encouraged with new musical instruments and games to keep spirits up; the Internet was installed to enable and promote communication between the houses and with other communities around the world.
Facts about L'Arche Zimbabwe
• The community was founded in 1997 with the opening of Ngoma House
– a large property at the south end of Harare, Zimbabwe's capital and largest city.
• A second house, Brook House (which is within walking distance of Ngoma), was opened in 2007.
• There are 23 people with intellectual disabilities in the community including a number of children. 22 of them being welcomed in the 2 houses.
• 120 adults and children with intellectual disabilities and their families benefit from the community's outreach, day-care and therapy projects.